FOR IMMEDIATE RELEASE
Tennessee Ranks 5th for Men Murdering Women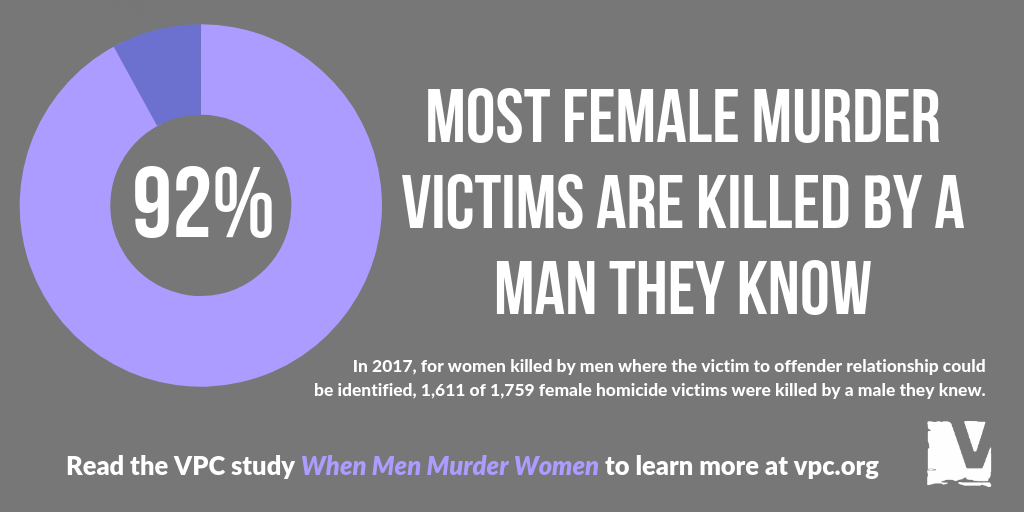 Most victims were murdered by a man they knew
NASHVILLE, Tenn. (Sept. 19, 2019) — Tennessee is one of the most dangerous states for women, ranking 5th in the nation for women killed by men, according to the latest When Men Murder Women Report released by the Violence Policy Center this week.
The report analyzes national homicide data submitted to the Federal Bureau of Investigation (FBI) by local law enforcement agencies. The most recent data available shows 69 Tennessee women were murdered by men in 2017. Of those, 90 percent were killed by a man they knew and 76 percent were killed with guns. This reflects the highest percentage of Tennessee women killed by men with guns in the last 10 years. In comparison, 65 women were murdered by men in 2016 and 52 percent of victims were killed with guns.
The number of women in Metro Nashville-Davidson County killed by men with guns has continued to increase in recent years as well. In 2017, nine women in Nashville were killed by men in domestic violence homicides. Five of the nine women were killed with firearms.
"While Nashvillians should be proud of the progress we've made providing safety and support for victims of domestic violence, we continue to see this epidemic claim the lives of loved ones in our community," Diane Lance, Department Head of the Metro Office of Family Safety, said. "Most of the women murdered by an intimate partner haven't reached out for help. It takes our entire community to speak up, let victims know they are not alone and hold these offenders accountable."
In addition to state-specific statistics, the report details key findings from analyzing national data. Across the U.S. in 2017, there were 1,948 females murdered by males in single victim/single offender incidents that were submitted to the FBI for its Supplementary Homicide Report. Three notable findings include:
For homicides in which the victim to offender relationship could be identified, 92 percent of female victims (1,611 out of 1,759) were murdered by a male they knew. Nearly 11 times as many females were murdered by a male they knew (1,611 victims) than were killed by male strangers (148 victims).
For victims who knew their offenders, 62 percent (997) of female homicide victims were wives or intimate acquaintances of their killers.
Nationwide, for homicides in which the weapon could be determined (1,716), more female homicides were committed with firearms (57 percent) than with any other weapon. Knives and other cutting instruments accounted for 20 percent of all female murders, bodily force was used in 9 percent of cases, and a blunt object was used in 6 percent. Of the homicides committed with firearms, 69 percent were committed with handguns.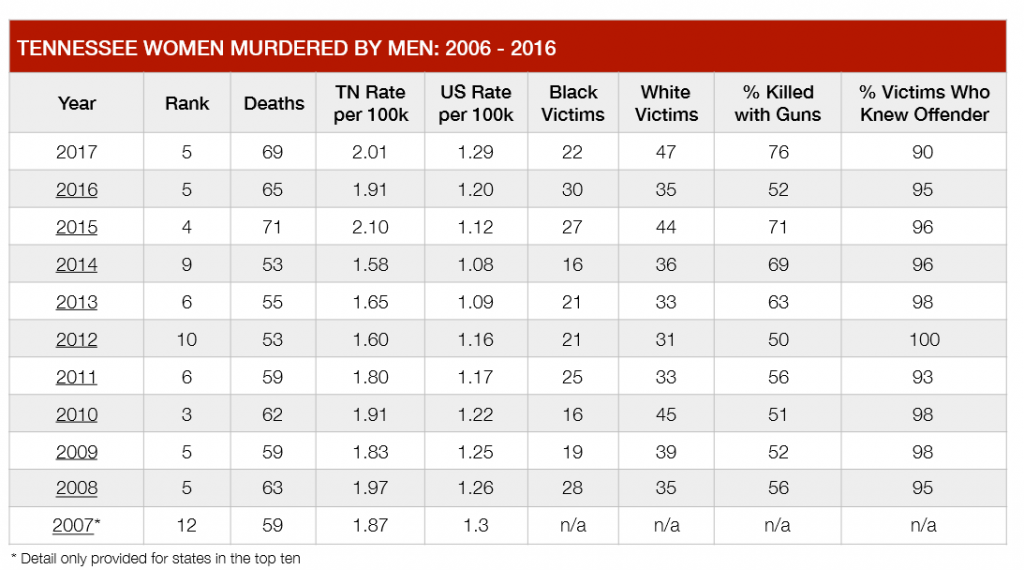 Graphic prepared by the Tennessee Safe Project.
In Davidson County, victims of domestic violence can call or visit the Family Safety Center (FSC) at 615-880-1100 or 610 Murfreesboro Pike. The FSC increases the safety of victims of domestic and sexual violence, child and elder abuse, and human trafficking by creating a supportive environment for victims to receive free and confidential services from a variety of providers. Walk-ins are welcome 24/7.
###
About the Office of Family Safety
The mission of Metropolitan Government of Nashville-Davidson County's Office of Family Safety is to improve victim safety and offender accountability through the coordination of services provided to domestic violence and sexual assault victims by Metropolitan Government, its Family Justice Center and nonprofit partners.