Friend, we need your support!
Playing is healthy. Playing is healing. You can help the children that visit the Family Safety Center by purchasing a therapeutic play foam block – also known as a Kaboom Block. Kaboom Blocks allow children to feel empowered by building something larger than themselves. This is especially important for children who have experienced trauma. Can you help?
Each block costs about $10.
$25 = will purchase 2.5 blocks
$50 = will purchase 5 blocks
Click here to purchase a Kaboom Block.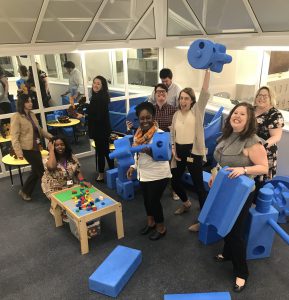 A recent feature on Nashville Public Radio highlights this, describing our play pyramid as "a cheerful setting for kids, while adults file an order of protection, talk to detectives, or plan a safety strategy." Since opening, our number of walk-in clients has already tripled. Many clients bring their children with them to the center. More than 340 children have waited in our play space while their parents were seeking assistance. The building was designed knowing this would be the case.
Please make a contribution to help us purchase Kaboom blocks. Each block costs about $10 and $749.99 is the cost of a complete set. We need two full sets.